Sans les Animaux, le monde ne serait pas humain
By Karine Lou MATIGNON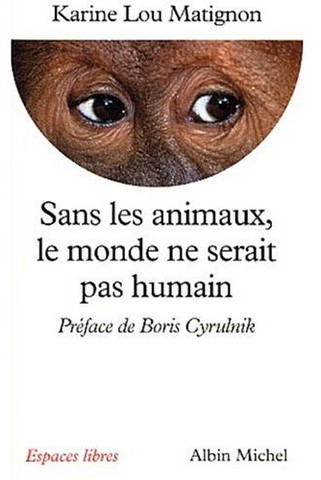 Our ancestor Hunter to the scientist of today through the shaman who was in magical relationship with the master-spirit of animals, communicate with beasts is an old dream of humanity. But there is a common human and animal language? Is it possible, for example, that the singing of the birds helps us to better understand the world?
Through their own experiments, researchers, artists, adventurers trying in this book to redefine the place of the man over the ditch which separated us from the animal. They invite us with the author, to discover the thousand ways in which we can communicate with beasts and we show how, through their teaching, better understand our own condition.
And if it find this sensitivity and this curiosity of child with respect to the animal, close to divert us from the human, us closer in?
In the editions of Pocket Albin Michel, spaces free (January 2003).