La plus belle histoire des animaux
by B.Cyrulnik, J - P Dion, P.Picq, and K - L Matignon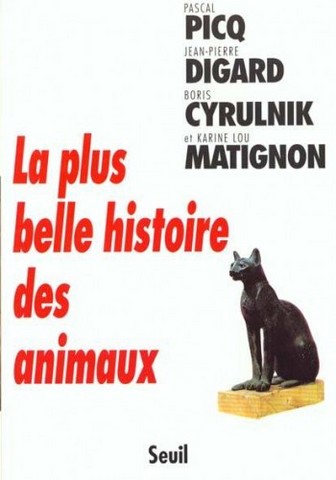 "The most beautiful history of animals"

What do we know really animals how they appeared? Why the fin, wing, leg, and the egg, this wonderful product of sexuality? Why are some species left to tame, tame? That seize the world? Can we communicate with them? Understand their thoughts? And why do we eat together and we love the other?
The history of animals, it is also ours: our relationship moved with the nature, with our past. Insects, fish, birds, mammals and of course horses, cats, dogs and other pets, they parade through this story told with passion by three of the biggest specialists. A family history, in short, that they reveal the secrets.
Biography of authors
Pascal Picq - archaeologist, lecturer at the Collège de France.
Jean-Pierre Dion - Ethnologist, Director of research at the CNRS.
Boris Cyrulnik - Neuropsychiatrist, one of the pioneers of animal ethology and the biology of behavior.
Karine-Lou Matignon - journalist.
At the Éditions du Seuil, collection POINTS (May 2004)