Use partial or total of my texts and my site without my permission is strictly prohibited

Consultant Specialist of Relations Man/Dog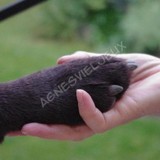 My approach is not to format the dog (train), or counteract "undesirable" behavior (as suggested by canine educators), but to understand, in the context of the animal's life, the origin of the difficulties to better respond and establish (or re-establish) family secure and peaceful cohabitation in the long term.


The basic aim of my work is to facilitate the adaptation of the dog to our way of human life (if complex sometimes for him!) by advice customized and adjusted to the expectations of owners and the Ethological needs of the animal.

Through a better understanding of the dog for a more coherent approach, its "undesirable" behaviors will soon diminish and fade gradually, permanently.
My interventions are done by appointment at home from Monday to Saturday to the Gard (30).
Depending on the nature of undesirable behavior, two or three consultations are necessary


The success of this approach will depend on the involvement and motivation of all members of your family.
Propose instead of impose, Guide without wanting to dominate,
make your dog co-operates with you because it's pleasant for him